Surgical Diode Lasers


The Advanced Monitors Corporation's Diode Lasers are designed for Multi-Specialty applications such as minimally invasive surgical techniques, general surgery, bio-stimulation, laparoscopic introduction and any incision or ablative soft tissue surgical procedure. These diode lasers work at the 980nm wavelength and are excellent for cutting tissue and blood coagulation.
These diode lasers are extremely versatile and can be used in three different modalities:
For External Surgery such as Lesion Removal
The flexible fibers can be placed in a hand piece for direct surgery.
For Internal Surgery
The flexible fibers can be placed into a catheter and then into an endoscope working channel for internal tissue surgery. These lasers are excellent for equine laryngeal surgery with the Tele-View USB Endoscopes.
For Therapy:
The flexible fibers can be placed into a therapy hand piece for laser therapy.
The unique 980 nm wavelength provides excellent control of precise tissue ablation of pigmented neoplasia or dysplasia lesions and provides superior homeostasis and coagulation that is not provided with C02 lasers. The light weight, compact design of the lasers makes for convenient ease of use and portability. The state-of-the-art, touch screen display enables simple operator interaction with minimal effort.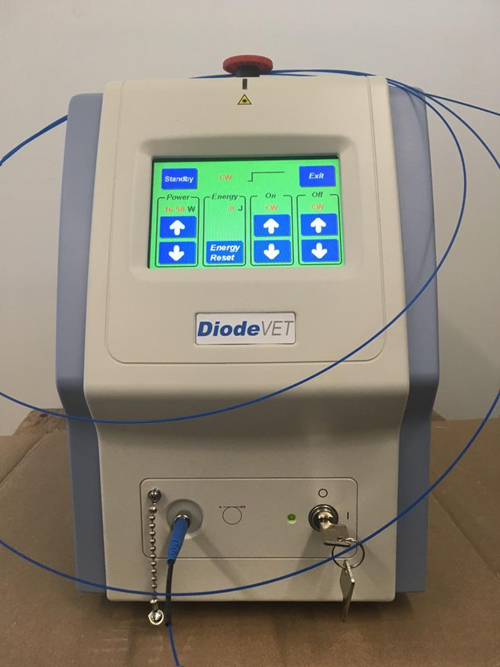 Specifications:
Wavelength: 980nm
Fiber sizes:
•Available Diameters: 400ųm, 600ųm and 800 ųm
•Length: 3m
Weight:
Dimensions:
Included with Products:
For Veterinary Use Only!
For More Information or to Order, contact AMC at:
US/Canada: 877-838-8367 x105
International: 01-858-536-8237 x105
Email: sales@admon.com