The RocketScope Wired Video Otoscope easily displays patient pathology on Windows computers, laptops or tablets. Improve patient education and compliance by presenting problems to patients in real-time. The simple and easy "plug and play' design of the otoscope allows for quick set-up and use. The software is included and installs quickly on your computer. The high resolution jpg images can easily be saved to the electronic medical record or sent by e-mail to patients or associates.
Connects to Computers
USB connection allows for easy and instant download of high resolution images. Store jpg electronically or share images to patients and associates.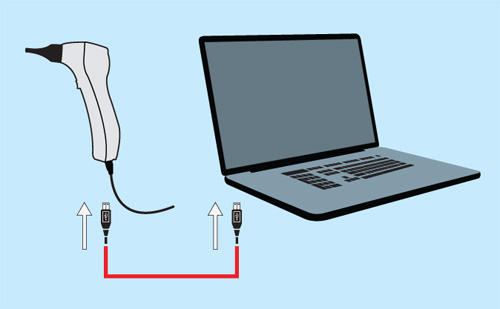 Retail Price: $499.00
Risk-free purchase! If not completely satisfied, return for credit (less shipping) within 30 Days.
Contact us for details: 877-838-8367 x105 or 858-536-8237 x105; or Email
International Shoppers: you will receive a separate email message from Advanced Monitors Corporation showing the freight charge.
Features
Detailed, High-Resolution Images
Focus and Brightness Adjustments
Works with Windows Computers, Laptops or Tablets
Easy Image Capture and Storage to Patient Records
Benefits
Improves Client Education and Compliance
Easier for Practitioner to See Pathology
Can be Used to View Throat or Tonsils
More Information
Demo Video
Coming soon