Tele-View Small Animal USB Video Gastroscope
The Tele-View USB Video Gastroscope for small animals makes endoscopy 'simple and easy.' These endoscopes are 'plug and play' and work with Windows computers, laptops and tablets as well as Android devices! Simply install the software and attach the scope's USB plug to the computer or tablet and you are 'ready to go!'. You don't need all the bulky traditional equipment found in legacy endoscope systems. Also, you don't need a separate room or area to do endoscopy as it can now be done in your existing surgical/treatment area. These endoscopes are great for the general veterinary practice as you don't have to send your patients to the specialists. Keep the patient and treatment in your practice!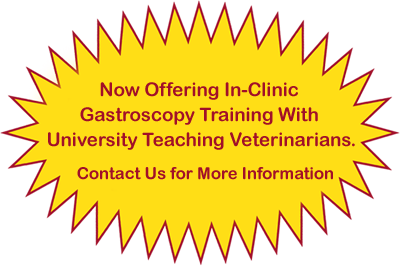 These endoscopes utilizes a high resolution sensor and super bright LED lights that give excellent clarity and illumination. As mentioned above, you don't need a Processor or Video Processor to run these scopes. Also, these scopes are very robust and durable with no fibers to break! The scope only weighs 2 lbs (1 kilo) and can be easily moved from one area to another. It is perfect for clinics that don't have the extra space for a large rack mounted system or for multiple-location clinics.
AMC sells optional air-water and air-water-suction pumps for automatic insufflation and irrigation. However, if you prefer to do this manually, we include a Biopsy Channel connector that lets you irrigate and insufflate manually. The software is included at no charge and the high resolution images and video can be saved to the computer's hard drive. From there, they can be attached to the patient record or sent to the client by e-mail, Dropbox or Google Drive.
Tele-View Air-Water Pump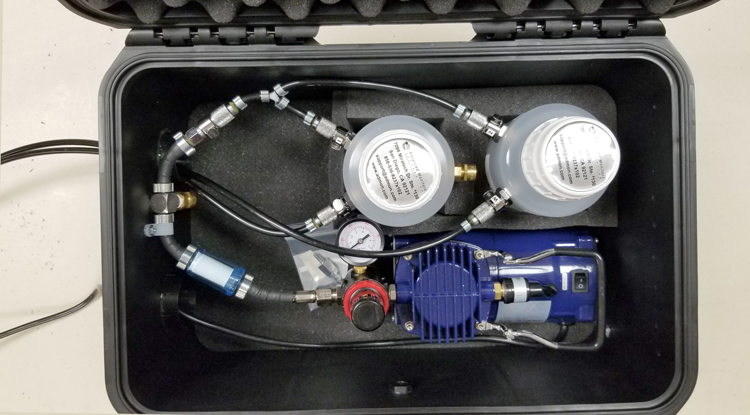 Tele-View Air-Water-Suction Pump with External Filter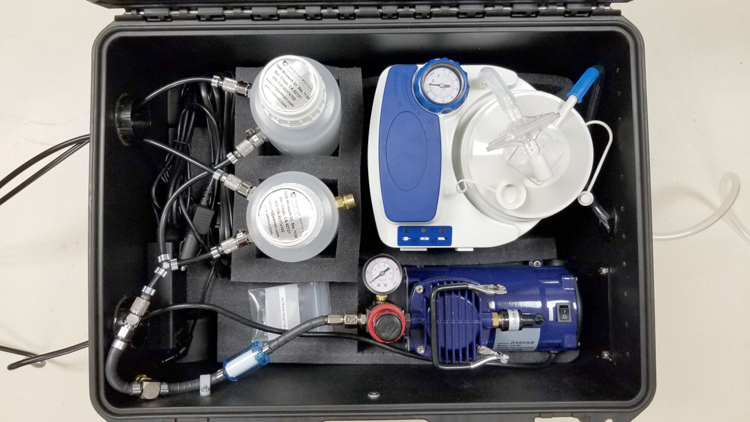 The Tele-View USB Gastroscope comes in several lengths and diameters. The small animal models and sizes are as follows:
TV-570SC: 1.0m x 8.7mm diameter with suction connector: Excellent for cats to medium size dogs.
TV-573SC: 1.5m x 8.7mm diameter with suction connector: Excellent for cats to large size dogs.
For Equine use, click here to see Equine Models and Sizes.
Contact us for details: 877-838-8367 x105 or 858-536-8237 x105; or Email
Now you can quickly and easily offer endoscopic procedures for your clients!
Features
'Plug & Play' Endoscopy
High Resolution with Super Bright LED's
Display on Computers, Laptops, Tablets & Android Devices
Air, Water & Working Channels
No Processor or Light Processor Needed
Easily Record Video to Hard Drive
Available in 1.0m, 1.5m, and 3.0m Lengths (Custom Lengths Available)
Weighs only 2lbs. (1 kilo)
Assembled and Serviced in the US
Benefits
Quick and Easy Endoscopy
Low Cost
No Processor, Light Processor, Monitor or Rack Needed
More Robust and Durable Than Fiber Scopes
Don't Need a Dedicated Endoscopy Area
No Need to Refer Patient to Specialists
Other Information?