CryoIQ Cryosurical and Cryotherapy Devices
Cryosurgery (Cryotherapy) is the local application of extreme cold for a controlled destruction or removal of abnormal or diseased tissue. In the past years innovations in the methods of application of the cryogen have made cryosurgery a preferred surgical treatment option for medical doctors to use on their patients. More portable, easy to use hand-held devices, such as the CryoIQ®, were developed to give the clinician the possibility to treat skin lesions with accuracy and efficacy, either in their office or on a mobile basis.
The freezing of the tissue by the direct application of the cryogen makes the procedure safe, efficient and fast. The freezing temperature will destroy cells in the target tissues, the accuracy will avoid destruction of adjacent healthy tissue and a powerful method of application will allow the clinician a rapid penetration of the targeted lesion.
The compact, portable CryoIQ® hand-held device uses Nitrous Oxide cartridges as a cryogen with a freezing temperature of -89°C/-127°F and once punctured the Nitrous Oxide is delivered with a 50 bar (725psi) pressure to the lesion which allows the clinician a fast and effective treatment.
The CryoIQ® gives the clinician the ability to control the width and depth of a skin lesion treatment using various types of applicators and for every 5 seconds of freeze the skin will be penetrated 1mm in depth, to a maximum of 5 mm.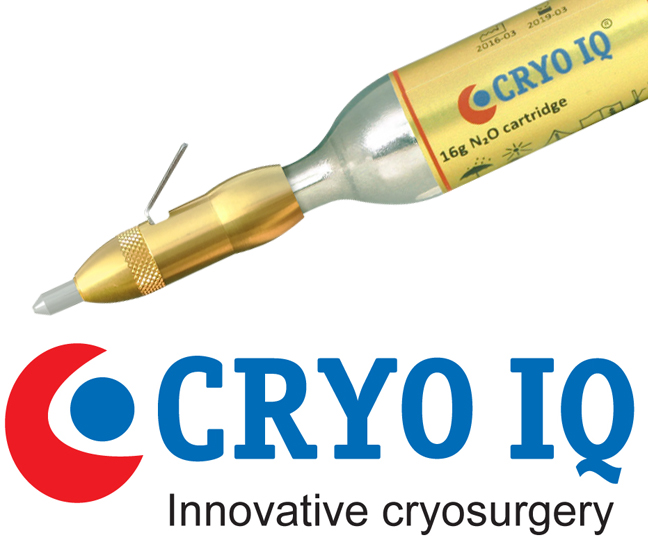 Cryosurgery has been used by clinicians in treatment procedures for, but not limited to:
Warts
Tongue tumors
Skin tags
Tumors in the mouth, ear
Papillomas
Angiomas
Cysts
Advantages of cryosurgery:
Inexpensive procedure because anesthesia and sterile preparation not necessary (out-patient procedure)
Fast and efficient treatment, less time needed for the clinician in a busy office
No general anesthesia needed in the majority of the treatments
Minimal to none pre-or post- operative care
The tissue and surrounding blood vessels freeze which causes its own numbing, making it practically painless and bloodless.
Lower risks of complication, less pain and quicker healing.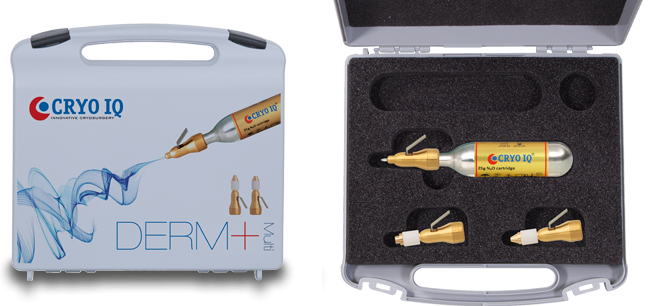 Cases: All configurations will be delivered in a practical storage case.
CryoIQ Pro Basic
The CryoIQ® Pro Basic has a fixed applicator capable of accurate liquid spray freezing of skin imperfections with no destruction of adjacent healthy tissue. The Pro Basic offers 2 choices of fixed standard dermatology applicators, 10mm length, with different spray coverages.

CryoIQ PRO Multi
The CryoIQ PRO with interchangeable spray and contact freezing applicators. The product has the choice of the use of 16g or 25g Nitrous Oxide cartridges.


For More Information or to Order, contact AMC at:
US/Canada: 877-838-8367 x105
International: 01-858-536-8237 x105
Email: [email protected]